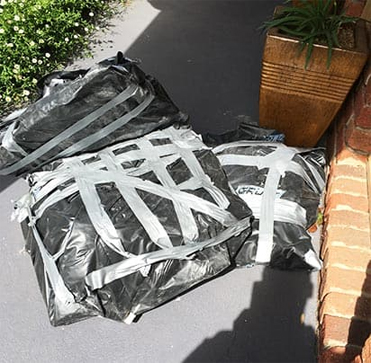 Reads Waste are your leading local specialists in asbestos pick-up services. With pick-up, transport and disposal strategies to reduce airborne fibres and ensure safety, our services are available around the clock for emergency needs. With full certification from WorkSafe and EPA Victoria, Reads Waste is the name you can trust for asbestos pick-up.
Only a phone call away the team at Reads Waste we deliver asbestos pick up across Melbourne's metro area and beyond. Handling asbestos waste and products with the care and respect it requires we proactively prevent the spread of any harmful fibres that may come off the sheeting or other asbestos materials.
Asbestos Disposal Melbourne, Victoria
In need of a qualified asbestos disposal team available 'near me'? Then look no further than the professional staff at Reads Waste. We have over 50 years of experience, delivering comprehensive asbestos disposal to Melbourne residents at affordable prices.
At Reads Waste we know all too well that removing the asbestos is only half the job. As fully-qualified professionals we have the permission and accreditations to safely dispose of asbestos products and materials to further prevent the spread of the fibres into the environment. All of the asbestos that is removed from the property is bagged and securely loaded onto our vehicles for immediate disposal. Our responsive approach to asbestos disposal gives Melbourne and Victorian residents peace of mind in the enduring livability of their property.
When it comes to the identification and handling of asbestos you simply can't settle for anything less than the best. That's why, at Reads Waste, we offer superior asbestos disposal across Victoria, helping to keep homes and offices safer and their occupants healthier and happier.
Asbestos Demolition Melbourne
At Reads Waste we provide professional services and advices in asbestos demolition for Melbourne worksites of all sizes, and for both residential and commercial projects.
During the process of demolition works builders may inadvertently disturb existing asbestos in the structure. To prevent this from causing the spread of these fibres throughout the environment Reads Waste can assist builders and construction sites with our superior and competitively-priced asbestos demolition services. Melbourne domestic, commercial, and industrial residents wanting more information about our asbestos removal and disposal rates and prices can get in touch with us on 0403 144 386 .
Our customers can also call 0438 588 511 for 24-hour emergency asbestos demolition, removal and disposal across Melbourne and Victoria.

Get A Quote
We operate a 24-hour emergency service that services Victoria wide.
2020 Reads Waste Pty Ltd. All Rights Reserved. | Digital Agency - Supple