Asbestos Removalist Bayside Council
Are you in need of fast, effective, and cheap asbestos removal solutions? With over 30 years of experience and training under our belts it is no wonder that the team at Reads Waste are regarded as one of Melbourne's leading asbestos removal and disposal companies for domestic, commercial, and industrial customers across the metro area.
By using methodical and industry-compliant techniques our skilled and dedicated team can complete personalised asbestos removal in Beaumaris, Black Rock, Brighton, Cheltenham, Hampton, Sandringham, and in the neighbouring areas.
With our responsive and modern asbestos services the team at Reads Waste are only a phone call away from coming to your door. By safely handling asbestos materials and products we can prevent the contamination of your living or working environment.
Industries We Work With
Residential

Commercial

Industrial

Government

Builders
Why Choose Reads Waste
We Put Your Mind At Ease With Our Many Years Of Asbestos Removal Experience.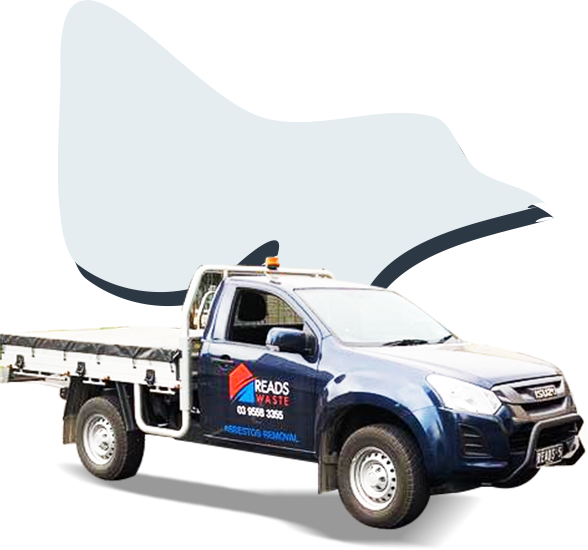 Melbourne
We are Australian owned, And fully licensed and accredited.
We take care of all commercial and residential asbestos removal.
We are EPA registered, ensuring that our removal and disposal methods are safe not only for people, but the planet as well.
Our team provides thorough clean ups for the affected work areas upon completion, ensuring your safety.
Reads Waste is insured up to $20 million dollars, giving you peace of mind.
We have a 5-star rating at Service Central and you can view our page by clicking the link.
We have been in the industry for years and our glowing testimonials prove it.
Asbestos clearance certificates issued on request.
Our asbestos testing and identification procedures are thorough and comprehensive.
We take care of all aspects of B Class asbestos removal.
Our Process
Our fast and high standard of work is why, when it comes to 24-hour asbestos removal in Melbourne, Reads Waste is your leading service.

Step 01

Enquiry

Step 02

Site
Assessment

Step 03

Free Quotes

Step 04

Compliance Through Worksafe And EPA

Step 05

Setup Exclusion
Zones

Step 06

Asbestos Removals
And Clean Up

Step 07

Hygienist
Inspection

WHAT OUR CUSTOMERS ARE SAYING
Free quote provided on the same day their man came out. He was very knowledgeable and thorough. I booked the work. Paid my deposit and they were here in 2 days to complete the work. Great result. Professional and fair pricing. Definitely recommend.

Liz Lanyon

Thank you
We appreciate you taking the time to listen to our concerns
Mark has been fantastic.

Philippa and Simon, Newport

Just to let you know that the 2 men who came this morning to remove the asbestos did a great job! Thank you very much!

Marie, Wheelers Hill

Emailed about a quote and ended up getting a free visual assessment with proof of assessment to show the SES. If I ever need an actual inspection in the future, I would defs consider these guys.

L W

The response on their website was very honest and they were patient. I had submitted photos to enquire about a removal of a part of a fence which i believed was asbestos. After uploading the photos, I was informed the product was not asbestos and instead could be brought to a local transfer station.

Leo Z

Great service, very professional would Definitely use again.

Rebbeca Richie

We operate a 24-Hour Emergency
Get A Quote
We operate a 24-hour emergency service that services Victoria wide.
Asbestos Removal Service in Beaumaris, Black Rock, Brighton, Cheltenham, Hampton, Sandringham, Brighton
At Reads Waste we know the importance of delivering a comprehensive and reliable asbestos removal service that ticks all the right boxes and meets our customer's various needs and requirements. From testing, inspection, and assessment all the way through to the removal and replacement of asbestos roof tiles, we can give you the service you need without breaking your budget.
Asbestos Removal Brighton
To speak directly to one of our WorkSafe Victoria and EPA Victoria accredited team members about hiring one of our specialised and secure asbestos bins Sandringham, Hampton, Cheltenham, Brighton, Black Rock, and Beaumaris locals can give us a call on 0403 144 386 or on 0348 588 511.
Asbestos Testing Brighton
Whether you're a member of the Bayside City Council or you're a private home or business owner, Reads Waste can provide the asbestos testing and asbestos removal you need in Brighton. Have you discovered suspicious building materials in your home or business? For the most precise asbestos testing Brighton has to offer, call our team of experts. Our asbestos testing in Brighton utilises the most trusted methods in the industry to identify dangerous asbestos. If required, we can then provide asbestos removal Brighton homes and families need. Call us today for a free quote on asbestos removal in Brighton and to learn more about the entire process.
2020 Reads Waste Pty Ltd. All Rights Reserved. | Digital Agency - Supple